ComAir 20T
Part # 130-61050
This product is now, ComAir 20T by Pentair Everpure (part number HVAC40 or HVAC45). For more information, please contact your Pentair sales representative, authorized Pentair Distributor, or customer service at 800.942.1153 (US only), or cseverpure@pentair.com.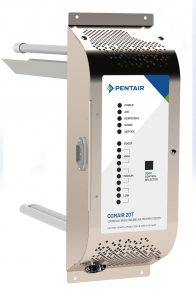 ________________________________________
The ComAir 20T Air Treatment System is the most advanced commercial grade HVAC sterilization system available. With germicidal killing power of 300 microwatts and 0 – 100% variable ozone output, it effectively eliminates bacteria and viruses along with odor from smoke, pets, and food preparation.
---
Applications
RESTAURANTS/BARS
COMMERCIAL KITCHENS
FOOD SERVICE VENUES
HOTELS
SCHOOLS
STORAGE AREAS
OFFICE BUILDINGS
FACTORIES
HOSPITALS
Downloads
Spec Sheet
Manual