Sanit-ICE
Part # 130-61025
This product is now, Oxidice by Pentair Everpure (part number CD835). For more information, please contact your Pentair sales representative, authorized Pentair Distributor, or customer service at 800.942.1153 (US only), or cseverpure@pentair.com.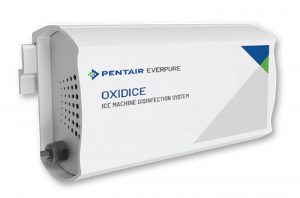 ___________________________________________
The OptiPure® Sanit-ICE is an external wall-mounted self-contained ozone ice treatment system. Easy mounting with a Z-Bar integrated into the back of the extruded enclosure. This unit will adapt to any size ice machine via a sophisticated control system. The unit delivers ozone through a single hole in the ice machine to a diffuser stone in the sump allowing ozone to dissolve in the water, treating the water, as well as off-gassing into the chiller compartment and treating all of the internal surfaces. Z-Bar mounting plate, drill template, grommet for the wall of the ice maker, diffuser stone, and 6' Teflon tubing are also included.
Curious how much money you can save by using Sanit-ICE?
Click here to use OptiPure's ROI Estimation Tool.
Read about how Sanit-ICE amazingly performed for a location in New Jersey in this case study:
Click here to download the full Ice Machine Sanitation Case Study
---