ScaleX2® — The Revolutionary Nano-Crystal Technology for Eliminating Lime-Scale.
ScaleX2 provides long-lasting protection from scale formation without chemicals or frequent maintenance. In some cases, ScaleX2 is a superior alternative to common scale prevention methods, including softening and polyphosphates. Unlike softening and polyphosphates, ScaleX2 does not add chemicals to the water and does not require frequent maintenance or replenishment.
ScaleX2 simply converts the scale-forming molecules into microscopic crystals. The formed crystals will not adhere to equipment surfaces and will not create scale (lime-scale) deposits.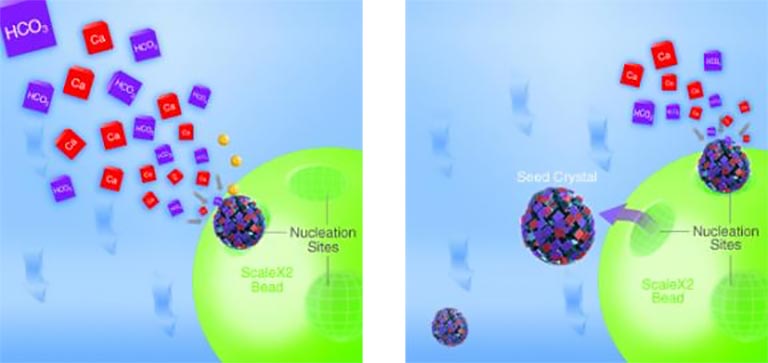 As hardness minerals come meet ScaleX2, nanocrystals of calcium carbonates form on the surface of the media. When the crystals are large enough, they break free and are carried away with the flow of water.
Foodservice applications for ScaleX2 include coffee brewers, ovens with steam generators or boilers, tankless water heaters, tank-style water heaters, misting systems, and as pre-treatment for OptiPure reverse osmosis systems. The ScaleX2 inhibitor technology is effective on water supplies with a pH up to 8.5 where no iron or copper is present.